The workshop talks will take place in lecture hall A (HS A) at the NATWI building (Technikerstraße 25, 6020 Innsbruck) at the Technik Campus of the University of Innsbruck. This campus is located on the west side of the city, close to the airport.
For information on how to reach the campus please refer to the Institute for Experimental Physics website and see the maps below.
Registration
Registration will be possible during the welcome event on Tuesday from 5 to 7 pm (Claudiana palace, Herzog-Friedrich-Straße 3, 6020 Innsbruck) and before the talks start on Wednesday from 8.15 until 8.45 am (in front of HS A in the NATWI building).
Thursday Hike and Dinner
We have organised a dinner at 7 pm on the Thursday evening at Restaurant 1809 am Bergisel (Bergiselweg 3, 6020 Innsbruck) near the ski jump. Before the dinner, there will be an easy hike which will take ~1 hour. We will meet for this at 6 pm outside the restaurant.
Maps
Event venues within Innsbruck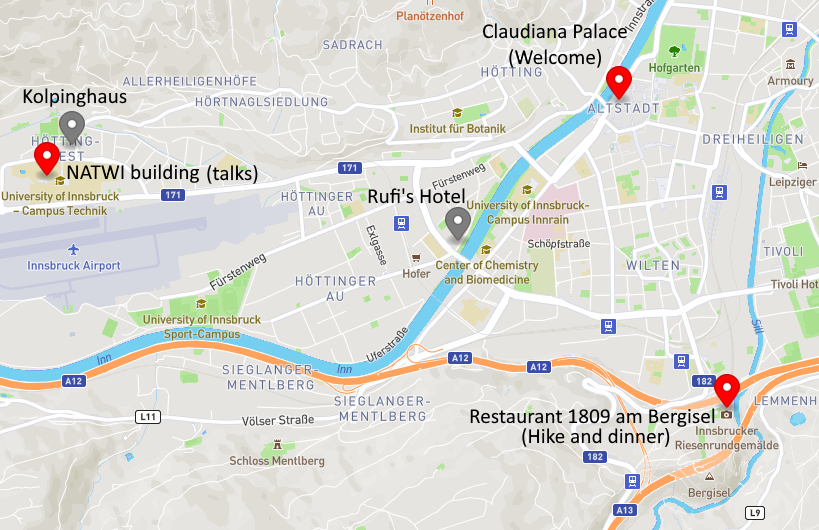 Addresses of event venues:
NATWI building, Technikerstraße 25, 6020 Innsbruck
Claudiana palace, Herzog-Friedrich-Straße 3, 6020 Innsbruck
Restaurant 1809 am Bergisel, Bergiselweg 3, 6020 Innsbruck
Accommodation addresses:
Kolpinghaus, Viktor-Franz-Hess-Straße 7, 6020 Innsbruck
Rufi's Hotel, Fischnalerstraße 28, 6020 Innsbruck
Campus Technik