Venue 
Hotel Miglio d'Oro
Corso Resina 296, Ercolano (Napoli)
Tel.+39 081 7399999
By Train
From the main train station of Naples (Stazione Centrale – Piazza Garibaldi) take the "Circumvesuviana" direction Sorrento and stop at:
ERCOLANO- SCAVI
The hotel is 15 min walking distance from the arrival station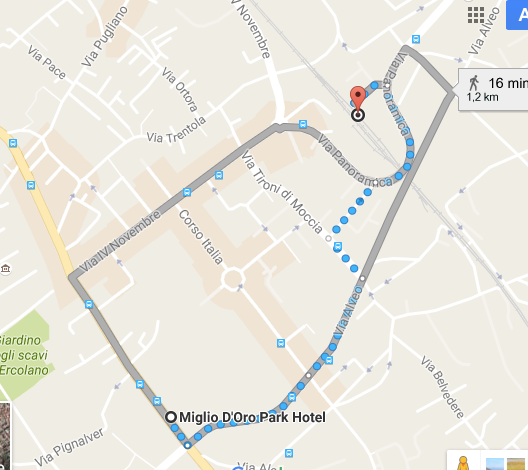 The "Circumvesuviana" is a railway line (like a subway), which connects Naples to important archaeological sites (Ercolano, Pompei, Sorrento).
More info: Lines and Timetables
By Plane:
Naples's Airport is Capodichino. From the airport to the Hotel you have three possibilities:
1) Taxi:  We suggest this option if you arrive after 18.00. The cost is of about 50 euro. It will take about 20 min. On the way back (Hotel –> Airport), the hotel's front desk can book a taxi for you with a slightly reduced rate of 40 euro. Please take only official taxi.
2) Public Bus+ Circumvesuviana: From the Airport there are public buses that bring you to the Train Main Station (Stazione Centrale-Piazza Garibaldi). From there, take the   "Circumvesuviana", which is a sort of subway. Stop at Ercolano-Scavi (see description "By train")
3) Conference Shuttle: Just for the arrival we plan to organize some shuttle service on Tuesday. Since the arrival times are very dilute over the day and since we don't have the information for all of you, we have planned the shuttle in the following way
9.45 Leaving time of the Bus shuttle: Meeting point at 9.30 at the arrival. The driver will have a signboard with the hotel name (Miglio d'oro)
14.45 – 17.30 Leaving time: During this timeframe we will have an 8-seats bus, which will continuously run from the airport to the hotel (we expect about 1 transfer/hour). At the arrival gate there will be either Gabriele or Claudia waiting for you and they will have a signboard with the name of the conference.
If the the schedule of the shuttle does not fit with your arrival time, please choose option (1) or (2).
By CAR
Leave the highway A3 (Napoli/Salerno) at the exit of Ercolano-Scavi (2nd Ercolano's exit), which  is about 7 km from Naples and 3 km before Pompei.
The Hotel has a private parking, which is on the back. The entrance of the parking is in Corso Italia 67 (whereas the main hotel entrance is in Corso Resina).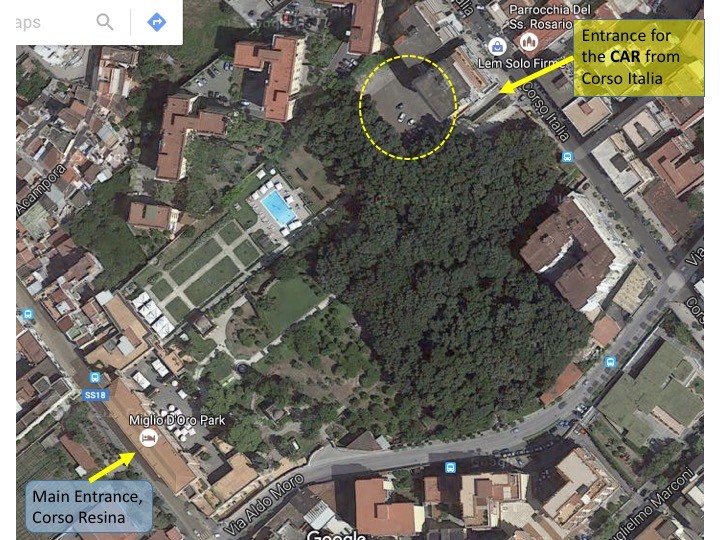 And here a picture of the entrance gate, which I took